Because it's summer, a lot of us are reading light, fun books. Some of us actually enjoy light, fun books year round. And if you're a kid who happens to be a girl, and has a BFF, what could be better than reading a fun book with her?
Just in time for summer fun - or back to school (AGH I KNOW I SAID IT!!!! WHAT A DORK!!!!), Scholastic Canada has published the third book in my Quiz Book series just for us gals.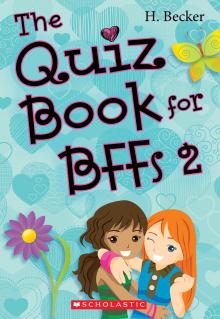 Here are some deets about it:
Are you and your BFF still meant to be? Take these quizzes and find out!
Are you twins separated at birth?

What sports star is she?

Is she a princess, a peasant or a jester?

Are you destined to remain friends?
Whether you want to make sure you've still got what it takes to be a great best friend, or have a new BFF, or need more questions for your best-ever sleepover, The Quiz Book for BFFs 2 is another fun way to celebrate your friendship and get to know each other even better!
Raves & reviews:
Praise for The Quiz Book for BFFs:
"The 31 quizzes in The Quiz Book for BFFs will have girlfriends talking and laughing... the combination of silly and serious questions would make this an entertaining book to bring along for a sleepover." —Canadian Review of Materials
You can also check out an excerpt
here
.